Arvada Press Article - August 2019
Video from Sound Mitigation Meeting
February 27, 2019
Recorded Live to Facebook - our apologies for the choppy quality due to slow wifi connection at Clubhouse.
sound is set to "mute" by default. Click on speaker icon in lower right corner to hear.
Neighbors of the Parkway Survey Results:
Neighbors of the Parkway administered a survey to the Leyden Rock community between January 16-22, 2019. The survey gauged community sentiment about the proposed Jefferson Parkway and measured strength of support for general and specific recommendations that Neighbors of the Parkway may advocate for, including in any Parkway work solicitation.
A total of 795 Leyden Rock residents responded to the survey. In general, the survey respondents showed strongest interest in mitigating sound from the Parkway and ensuring the Parkway contains appropriate safety protections. Specifically, the survey respondents indicated that sound mitigations - beyond sound walls - should be included in any project plan, followed by recommendations related to using the Parkway to increase Leyden Rock's connection to external community services, making the Parkway as aesthetically appealing as possible, and also reducing light pollution associated with a major highway passing through a large community.
Neighbors of the Parkway would once again like to thank everyone that took the time to complete the survey, and will be providing further insights from this survey in the future.
First Neighbors of the Parkway Meeting
Well Attended!
Over 100 residents came together at the Leyden Rock Clubhouse on January 9, 2019 for our first meeting! For two hours, information was shared about the Jefferson Parkway and an energetic discussion of our options was conducted. Thank you to all who attended this important initial meeting!
We're just getting started. The next steps are already being worked on, and include:
1. Organization of meeting notes from Wednesday's meeting - posted below.
2. Assembling a full list of formal recommendations, based on meeting input, to be voted on by the community - in process.
3. Determining a viable voting methodology - in process.
4. Preparing templates for letters and e-mails - posted on "Parkway Information" page.
5. Confirming contact lists for JPPHA, City Council, contractors, etc - done - on "Parkway Information" page.
Would you like to help? Please get in touch: neighborsoftheparkway@gmail.com. Also, in order to receive immediate notification from Neighbors of the Parkway, subscribe for updates at the bottom of this page!
Notes from 1st Meeting - Neighbors of the Parkway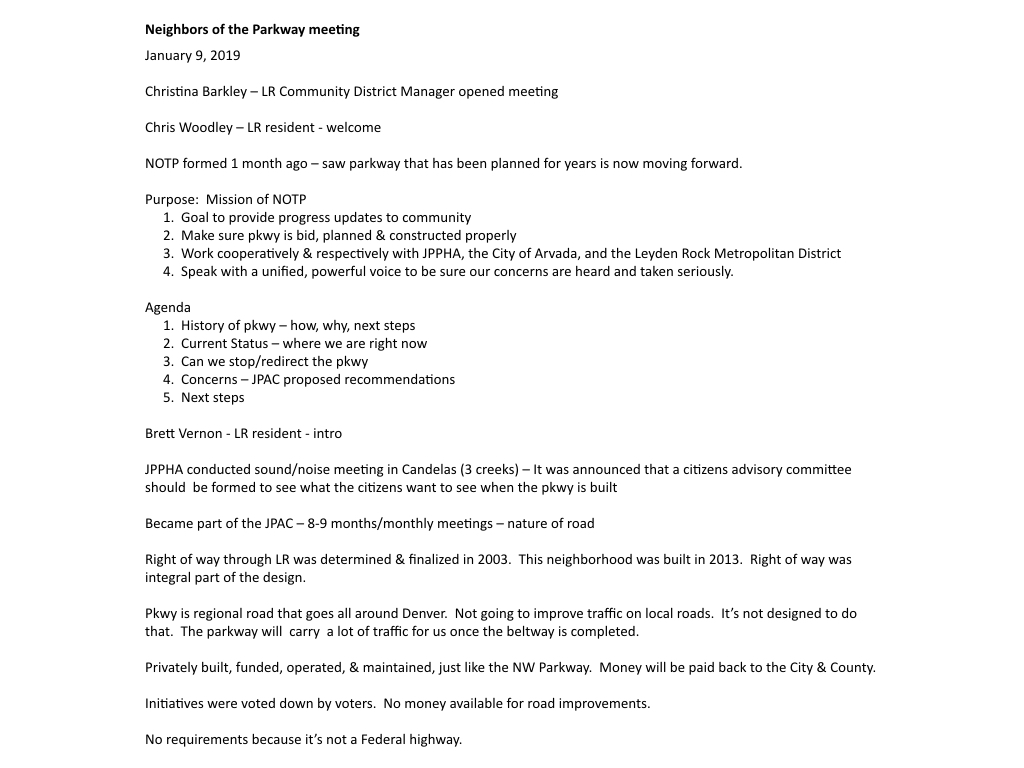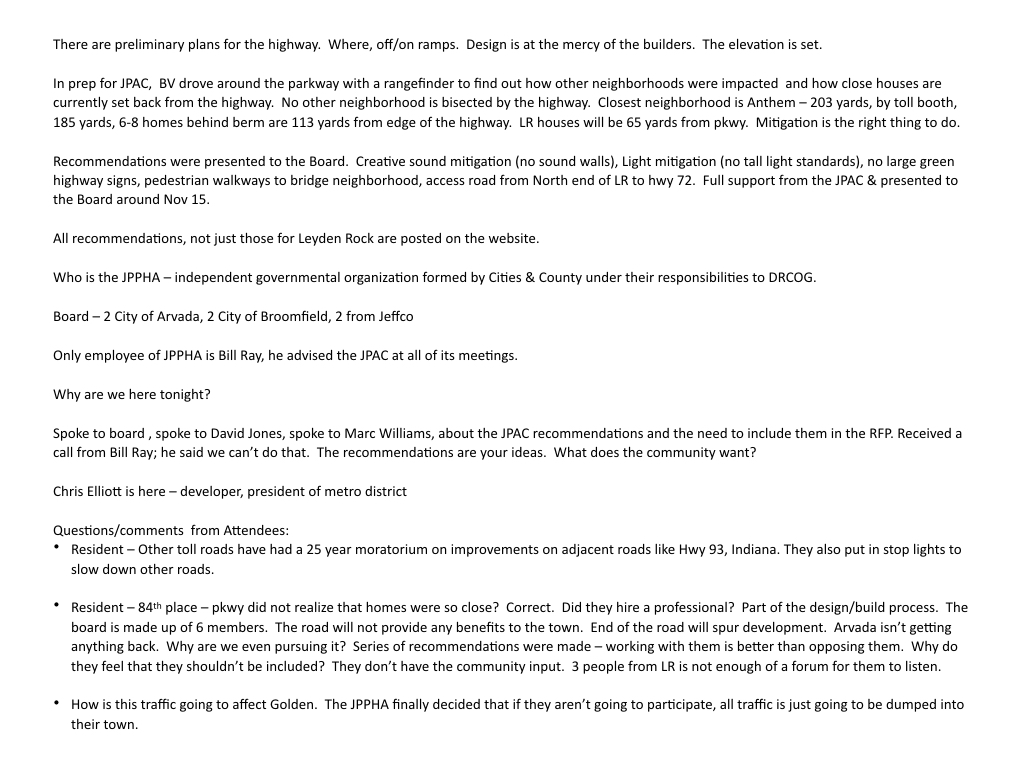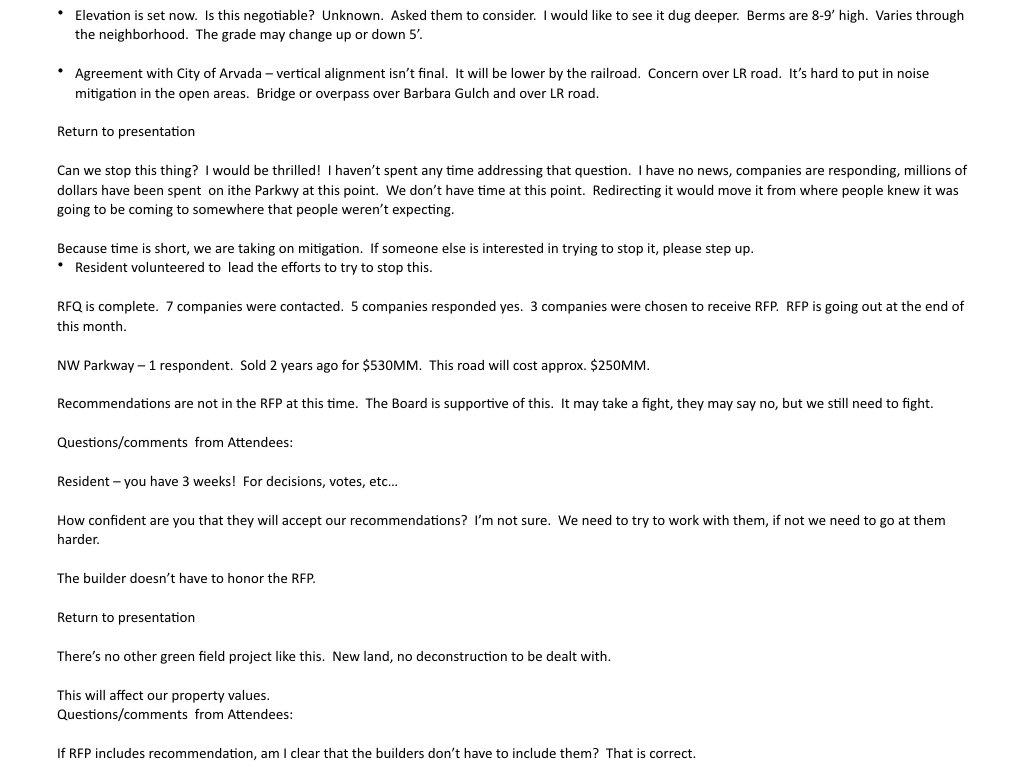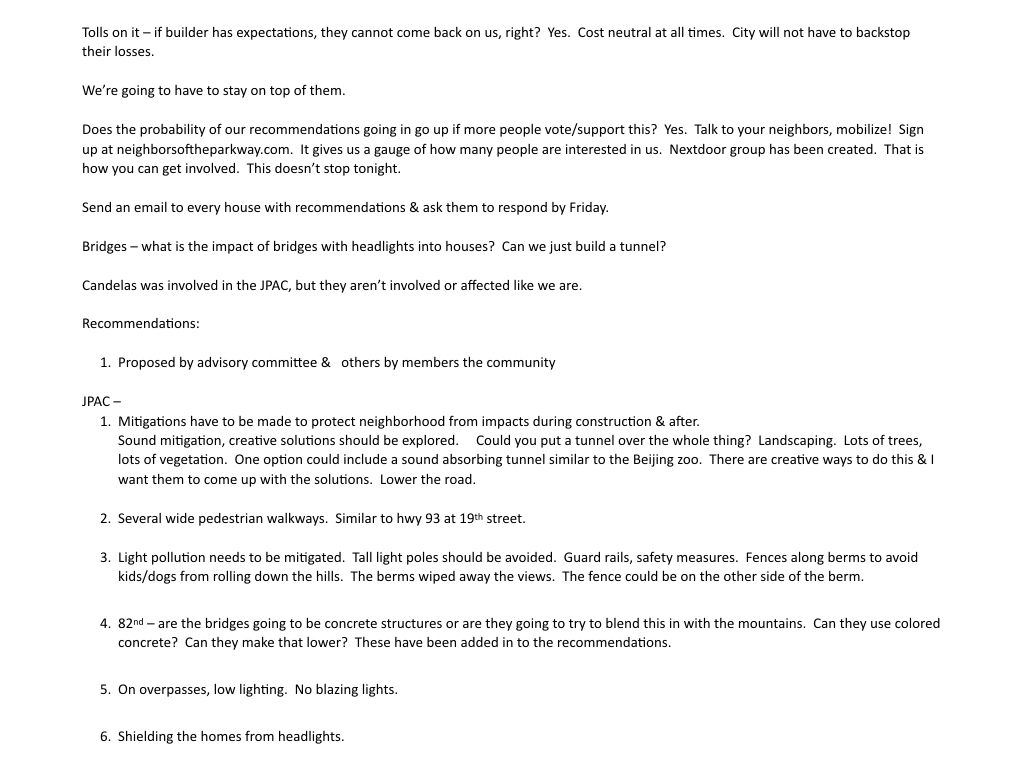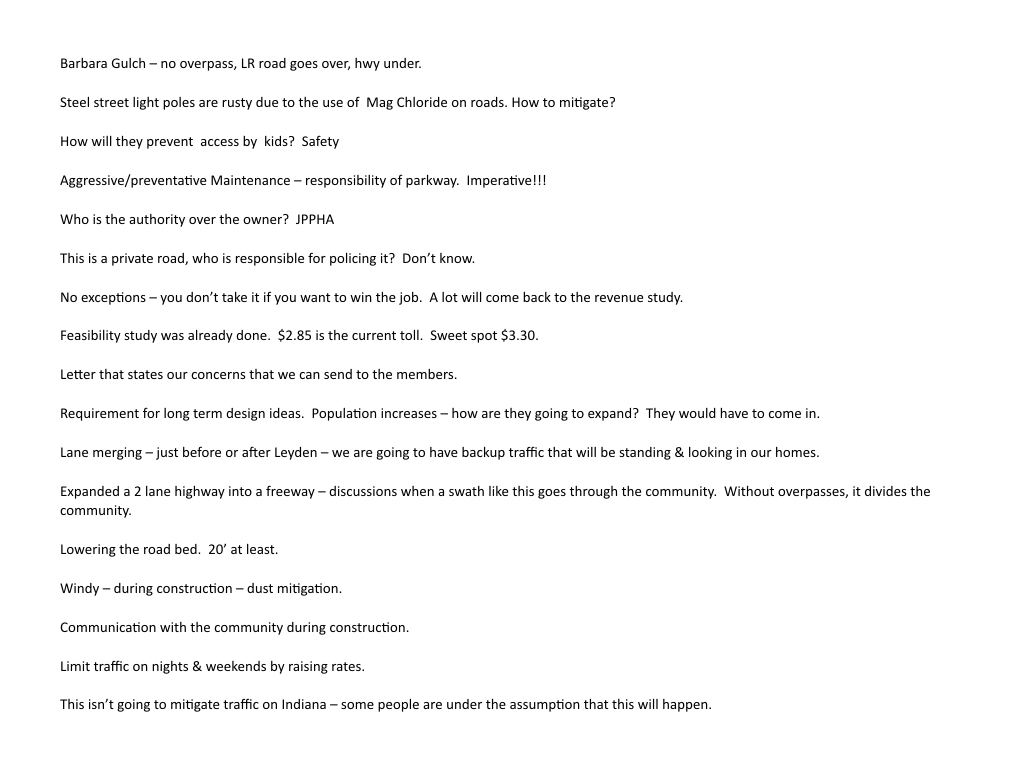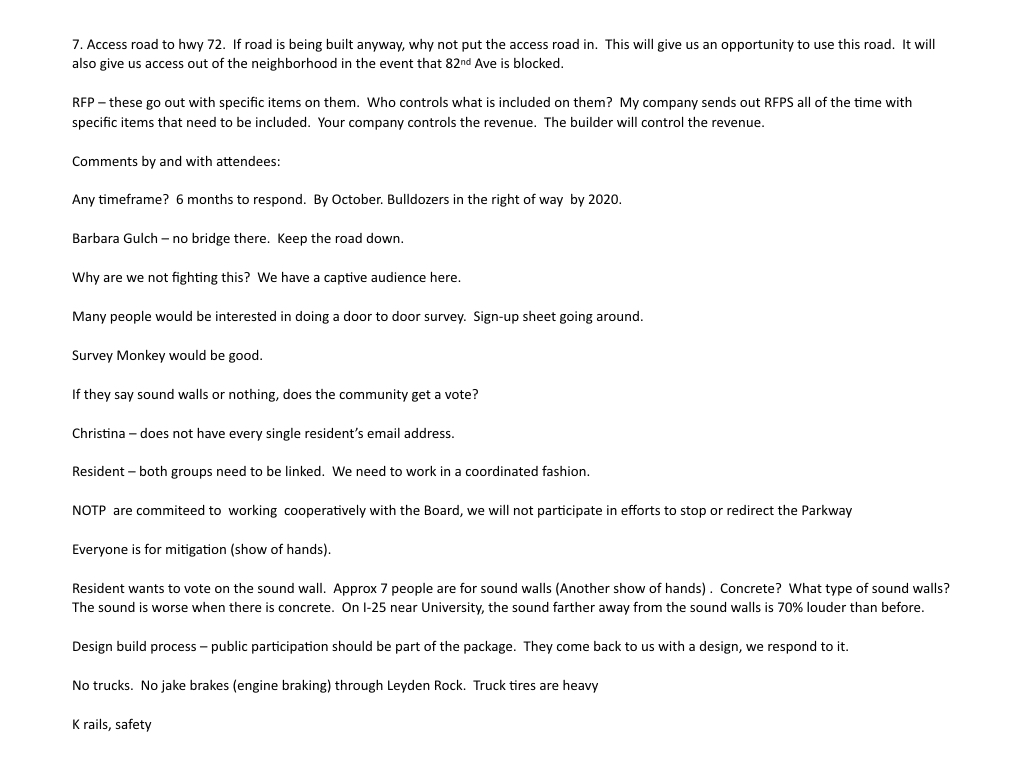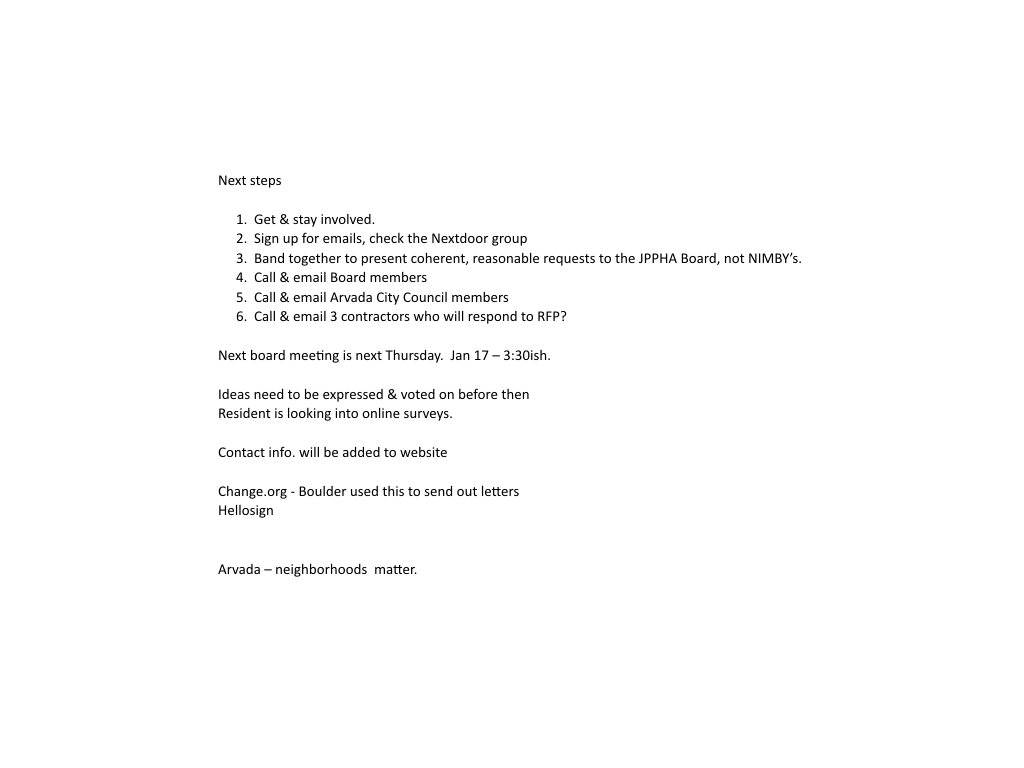 Who are Neighbors of the Parkway?
We are a group of concerned citizens who have come together to advise - and seek input from - our neighbors. Our goal is to provide updates on the progress being made on the proposed Jefferson Parkway and to make sure it is bid, planned, and constructed with consideration and respect towards the neighborhoods bisected by the Parkway.
Our goal is to work cooperatively and respectfully with the Jefferson Parkway Public Highway Authority, the City of Arvada, and the Leyden Rock Metropolitan District to protect the character, continuity, and tranquility of the Leyden Rock Neighborhood while embracing the need for regional transportation solutions.

We will organize meetings, solicit feedback, and communicate that feedback to the Authority, The City, and the Metro District. We will keep the community informed utilizing social media, this website, community meetings, and word of mouth.
We are private citizens who believe that Leyden Rock is a special place, where our children are being raised, and where lifelong friendships are being formed. We believe that the community of Leyden Rock is worth embracing and protecting.
Be sure to subscribe below to make sure you stay up to date as this process moves forward and to be added to our private Facebook group.